- Tip -
When you are writing, consider 15 minutes a long time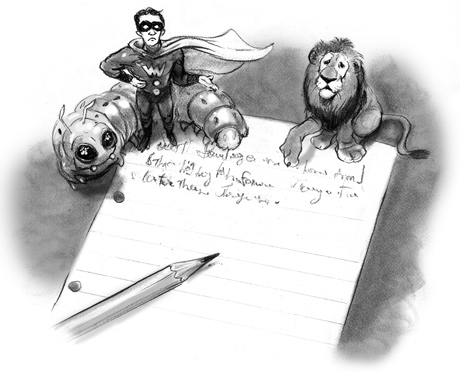 Sometimes, an experienced writer elf will write a title or a sentence or a paragraph and that is all.  Then she (or he) will come back to the story later—later that day, or the next day—to write a bit more.  It is very rare to write a story all at once. Very few elves have ever done such a thing.
Therefore, whenever the circumstances allow, elves work on stories over many days, a little at a time.  Our expectation is that stories take time.
You might feel that the story characters are impatient when you put down your pencil to take a break!  This is good! This means that your characters are pleased with what you are making.
You might think that you will forget a story if it is written over so many days. Quite the opposite often takes place: we continue to ponder and play with the story even while doing other things.  (Of course, we can jot down any sudden ideas in a journal; this is so quick and easy.)
New idea: Write for a short time.
Write the best ideas you have.
Know ahead of time that you will stop soon.
Then, stop.  Go do something else!
It is exactly right to take breaks when we write.
We can tell our characters to take a break, too.
When we come back to the story, we take a moment to read what we have written, and happily begin from there.