- Tip -
Invent your own mythical creature!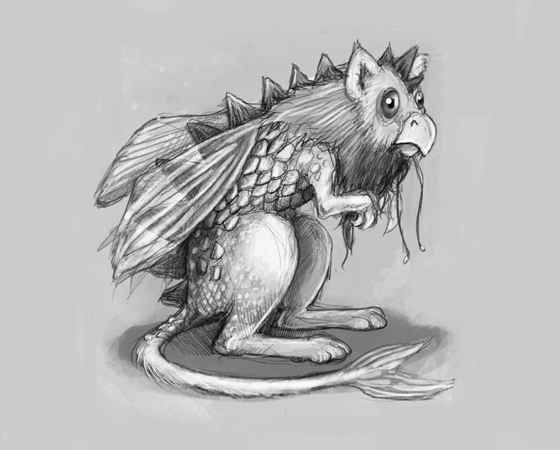 One of my favorite things to draw growing up in the woods were the creatures I saw around me.  In the human world, you might call these mythical creatures:  mermaids, unicorns and trolls.  Yet, even more than the familiar creatures (familiar to elves), I love making up my own.
Now how do you do that?  It is actually quite simple!  An elf elder gave us this assignment one day.
i)  Write down a list of creatures.   They can be your favorite creatures, or just ones you find particularly funny or fascinating.
ii)  Next to each, write down their most interesting body parts and features.  (What is interesting to you.)
iii)  Once you have a list, choose four of the creatures to work with.
The writing part of the assignment might end up looking like this.
Lion: Big mane, long tail with fluffy end, big paws
Gold fish: Flowy fish fins, bright color, scales
Lizard: Feet with nails, scales, a very long tail
Owl: Big eyes, short beak, wings, round body
Now I look at the features and pick the ones I like the most from each creature.  If I feel uncertain of what the features look like, I can find pictures and use them for reference for my drawing.
Then, I am ready to combine the different features into a brand new creature!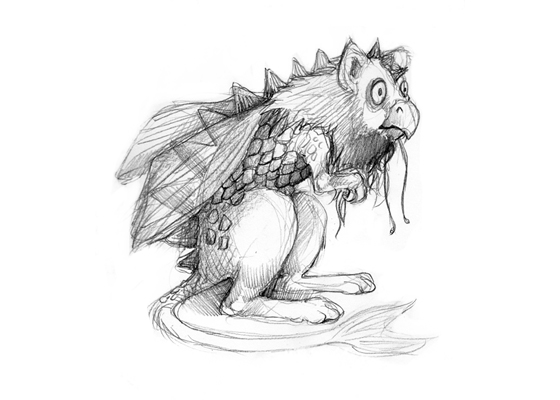 I might also want to think of a name for this creature.  Chances are, it is in the woods somewhere.