- Tip -
Walk before you run
When you draw, it is important to lean the basics.  For example, it might be hard to start by drawing a cool robot hand without knowing what a real hand actually looks like.
Every illustrator elf needs to learn to see a hand.  That may sound very obvious, but believe me, there is looking and there is seeing.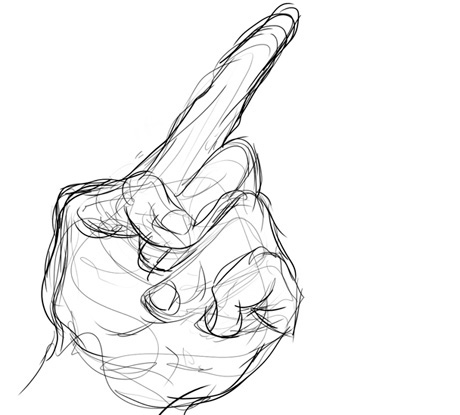 Here is a sketch of my own hand.  A sketch is a very quick drawing done with a pencil.  You can see I left all of my searching lines and corrections in, and didn't do much to finish the drawing.
I wanted you to see that I was looking for shapes and lines to work together to make my hand. This is what comes from knowing how to see a hand, and also knowing a fair amount about the parts of the hand.
By the way, "searching lines" are my guesses, my incorrect lines and sketchy lines.  They are all things I can clean up later!
—By Scoble